Corset belts are definitely a glamorous accessory and have taken over the industry because of such an appealing charm. They come in street style prints, fancy lace, bold leather and even intricate embroidered and embellished work. This trend will not only add an ante to your outfit but will also curate a unique demeanor for you. Go for the following corset belts and make this look worthwhile.
Lace Corset belts
Corset belts are available in so many designs but the poshest design of all is this lace corset. Lace is one of the classiest and poise picks in the entire range of belts because it is timeless and has a unique appeal. Lace is a definite pick for all those who are looking for style and class in one go. This lacey number will satisfy the diva in you, give you the required attention everywhere and make you stand out from the crowd. Also, one of the most versatile fabrics and also the plushest one, this can be worn with pretty much anything. Pair this lace corset with a checked shirt or a solid colored shirt. You can also do it with a loose dress or a printed jumper in an oversized style. It can effortlessly make everything look stylish and stunning.
Leather Corset belts
This leather corset belt is one of the most stunning and bold looks for every woman out there. There is something about leather that makes us wonder what makes it so bold and fierce. Probably it is the tailoring or the designing. But it always looks stunning. Leather in any form has the power to outshine every other dress and make you look daring and valiant. Nothing spells sexy better than leather and when it is a leather corset belt, there's bound to be fireworks! Pick it in black for the utmost impression. Pair this exclusive leather piece with a solid colored bodycon dress like red, wine, yellow, orange for the perfect party attire. You will definitely steal all the possible attention in the room because it is that magical!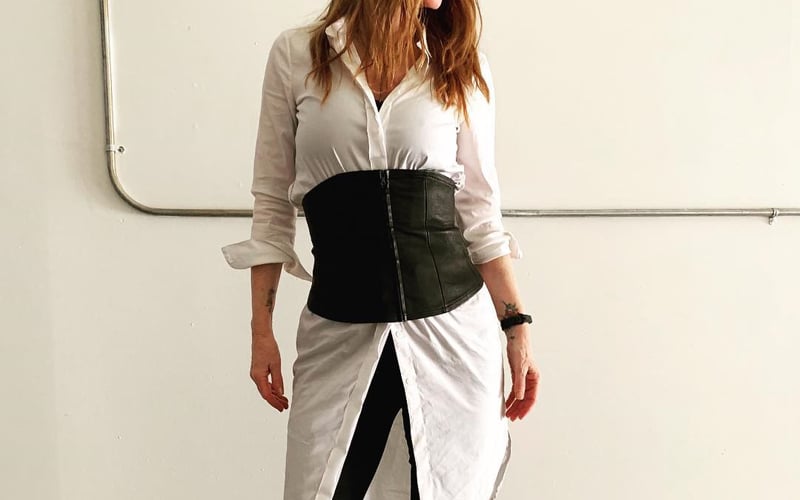 Studded Corset belts
Corset belts can also stretch from the bust area to the waist covering a huge part of the torso. This belt would then be more like shapewear because it will define your curves perfectly. This studded belt is somewhat like that. It stretches from the bust area to your belly thus covering the entire area. Also, the reason for adding studs to a corset belt is simple: Bling! One should never shy away from a little bling in any of the outfits and the best way to do so is by adding fancy accessories. Along with accessories, this studded corset belt will turn out to be your ultimate accessory. If you are unable to style that loose dress of yours with a sleek belt, then a corset belt with studs and embellishments will do the magic. It will take you anywhere from a day outing to a night party. Give it a shot!
Denim Corset belt
There was no reason to leave this one behind! Denim is an evergreen pick in our wardrobe when it comes to jeans, shirts and now belts. No matter how many years pass by, denim is going to be part of our wardrobe and there is a reason for it. It is stylish, comfortable, versatile and timeless. Pick a denim corset belt for yourself and then, you won't have to worry about any of your outings. It can be incorporated in different ways in all your outfits and grab you the necessary attention. Pair this denim corset belt with an asymmetrical top to accentuate those sexy curves and look like a gorgeous rockstar. A denim corset can be picked in acid wash color, dark blue or even the lightest tone; everything looks amazing in denim.
Printed Corset belts
For a minimalistic yet impactful look, go for a printed corset belt in bright tones or a mixture of colors. The thing about prints and patterns is that they are endless. You will find a huge range of prints in fashion and all of them are pretty much interesting. Nonetheless, you can always pick a mix and match of different prints. A printed corset design adds dimension to your outfit and makes it look different from the rest of the crowd. There's really no better way amp up the ante of your attire than using this printed corset belt. The trick is to pair them with a plain and monochrome outfit to add that oomph and make them a highlighted part of the outfit.