Let's talk about our favorite pair of shoes "Loafers". This slip-on style offers a more corporate gaze but like any other type of footwear can be styled in infinite options. If you have loafers and always pair them with formal pieces you have clicked on the right feed. With loafers in your closet, you are pretty much covered for your formals and casual looks. It elegantly separates the masculinity and feminism by liberating you to styling it with any trouser fit say to be jeans, cigarette trousers, or paper-bag jeans. So, all you have to do is invest in a nice pair of loafers and learn how to style them casually. There is no precise learning involved as such but a few looks to be kept in mind that would turn out to be a real help in wearing loafers.
Loafers are available in a variety of styles from tassels to the penny, low-heels to high-heels the plethora is quite interesting. Loafers can be easily replaced with any casual shoe leaving aside the on-duty vibe. The styling guide will take you from casual date to brunch with friends, all in loafers.
If you're looking for pairing classic loafers causally we have scooped out 4 interesting looks for a stylish setup.
Button-down Shirt, Loose-fit Jeans, and Loafers
If you want to achieve a classy edge even in most of your casual looks this trio works amazingly well. Give your sneakers a hold and raise a notch-up while styling the look with loafers. You will love the extra dash of elegance added by the loafers to the overall look, keeping it relaxed, polished, and causal. When it comes to the footwear trends loafers is the favorite maybe because it smoothly renders a smart-casual ensemble without doing much.
Tee, Denim, and Loafers
Pairing your casual tee and denim together is one of the most cliché looks. But we were thinking why not revamp the look stylishly? Replacing your footwear with loafers you will create a statement look even with most cliché fashion combinations.
This look works great even for the fashion naive as you don't have to do much to look stylish just switch your usual pair with loafers and voila you're ready to put your stylish foot ahead. When picking the tee, you can go with any graphic printed tee; it would complement the penny style loafers really well.
Denim On Denim with Loafers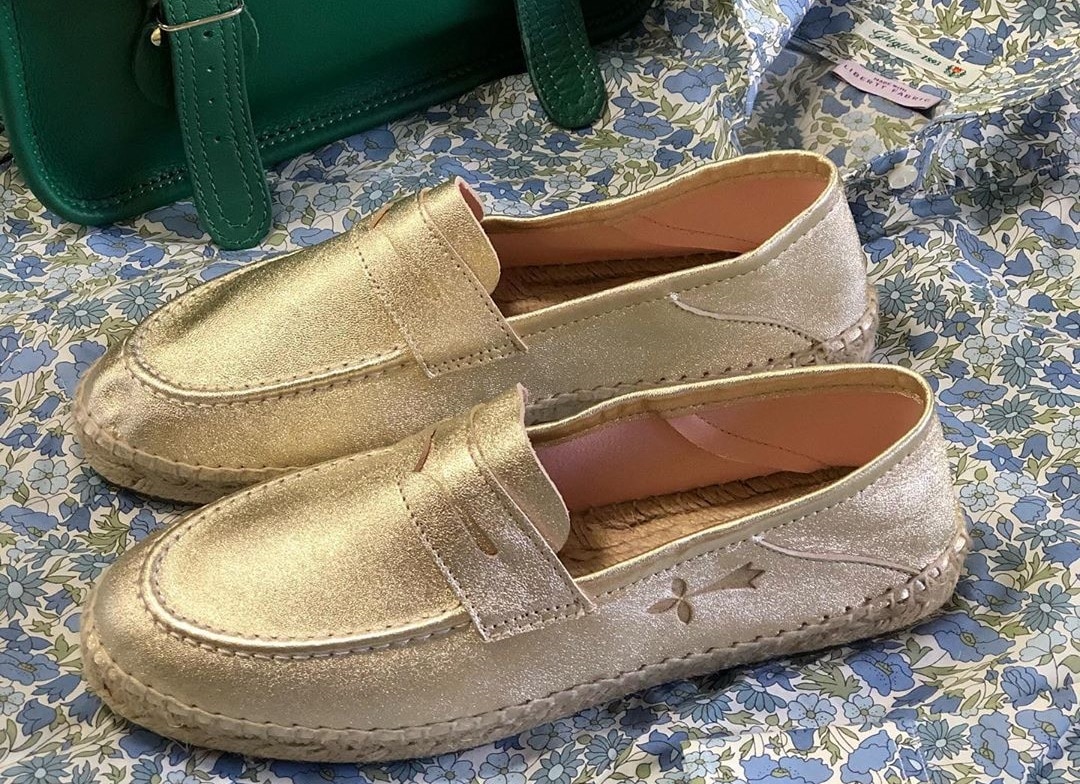 When you're heading for draping a monotone look such as denim on denim, pairing dark hue loafers will not only draw striking attention but will also complement the single denim tone extremely fine. The hint of dark hue pair of loafers will add a balance to the denim on denim ensemble.
Incorporate bold-colored loafers say it to be black or white and if you're thinking to opt for nude-colored loafers- a big no-no. Since denim on denim is all about a single color with a slight variation in hues, going for nude loafers will make the look a bit tad. So, to add a pop of color to the overall denim on denim vibe bold color loafers are the best pick.
Pencil Skirt, Blouse, and Loafers

This versatile combination works stylishly well for both corporate sector look and a night-party bash. Who said you have to wear heels only, we mean who made that what to wear and what to not wear party manual? Throw your party OOTD more comfortably and attractively by giving your heels a break and switching to your newest love loafers. You will immensely love slipping into the style without forsaking comfort.
So, if you've been thinking loafers are only meant to be worn corporately it's time to splurge on the overwhelming designs and wear it like any other type. We hope the feed would prove to be a great help in styling loafers.